The Minnesota Sustainability Index provides an overview of governmental units in Minnesota who have analyses, goals, and/or plans related to climate, energy, and equity. The index includes local, tribal, regional, and statewide examples and hyperlinks to materials.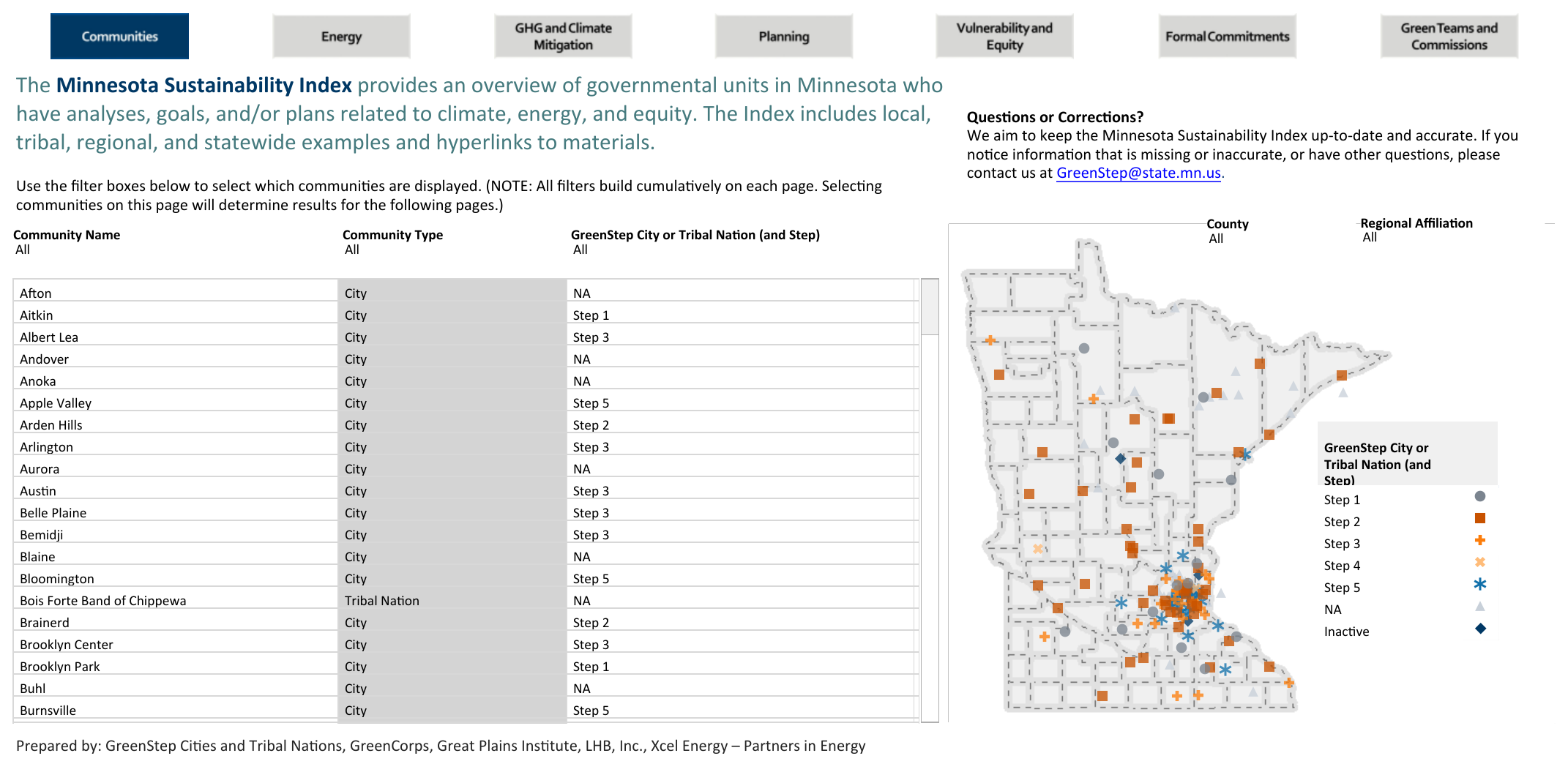 Energy: Goals related to renewable energy and renewable generation.
Greenhouse gases and climate mitigation: Greenhouse gas inventories and greenhouse gas reductions goals.
Planning: Climate Action Plans, Energy Action Plans, Adaptation/Resilience Plans, and Sustainability Reports/Recommendations. Looking for an in-depth overview of Climate Plans in Minnesota? Check out the 100% Campaign's 2021 review.
Vulnerability and Equity: Equity Planning/Action Plans, Vulnerable Population Assessments, and Vulnerability/Risk Assessments.
Formal Commitments: Commitments to initiatives such as Cities Race to Zero, We Are Still In, and Climate Emergency Declarations.
Green Teams and Commissions: Green Teams and Environmental/Sustainability or Equity/Human Rights Commissions.
Using this Tool:
Use the drop-down menus to filter the information that you are looking for.

Any filters you apply in one tab will still apply in all other tabs unless you reset the filters.

You can search for any one 'community' by left-clicking on the community name once and selecting "Keep Only."

Some links, such as the greenhouse gas inventories by the Regional Indicators Initiative, bring you to websites that display information using an interface such as Tableau. Use the dropdown menu to select the community information you're interested in viewing.

Map View: Access the information using a University of St. Thomas tool. Information is from Dec. 2022 only. To see specific information, toggle off/on layers as needed. 
This information is all collected manually. We strive to keep the index as accurate as possible. To report new or updated information, please email GreenStep@state.mn.us. Note that information must be publicly available and have a hyperlink.