Welcome to GreenStep Cities
Minnesota GreenStep Cities is a voluntary challenge, assistance and recognition program to help cities achieve their sustainability and quality-of-life goals. This free continuous improvement program, managed by a public-private partnership, is based upon a menu of 29 optional best practices. Each best practice can be implemented, as decided by city elected officials, staff and community members, by completing one or more actions at a 1, 2 or 3-star level, from a list of four to eight actions. These voluntary actions are tailored to all Minnesota cities, focus on cost savings and energy use reduction, and encourage civic innovation.  [
More
]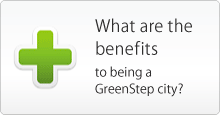 ---
Recognition Steps 1-5
Learn about the benefits of program participation, and then
| | |
| --- | --- |
| | Build community interest; have program staff visit your city; join GreenStep by adopting a city resolution |
| | Post brief info on this web site about what you've already done; be recognized for implementing between 4 & 8 best practices |
| | Implement at your own pace an additional 4 – 8 best practices; complete a handful of high-impact best practice actions (ask us for help) |
| | Measure and report on between 7 & 15 city performance metrics |
| | Show improvement in city performance metrics |
---
News
In Minneapolis; $150 off $195 cost for GS cities; contact the GreenStep coordinator for discount code.

Support to host a climate change vulnerability assessment and adaptation planning workshop. Apply by 8/30.

Get 6-18 months of project support for a local priority.

Read newspaper coverage of these newest GreenStep cities, and coverage of Shoreview's water conservation efforts.

Don't hesitate to contact Melissa, who worked on increasing the environmental and social sustainability of office furniture offered on state contracts.
---
GreenStep's Best Practices